Christophe Pouzat
Table of Contents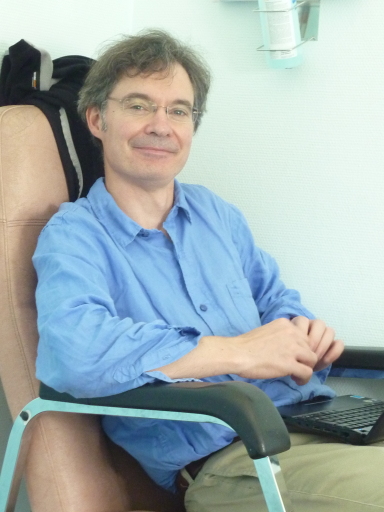 MAP5
CNRS UMR 8145
45, rue des Saints Pères
75270 Paris Cedex 06
France
christophe.pouzat-at-parisdescartes.fr
christophe.pouzat-at-gmail.com
tel:+33183945882
Cette page en français
.
Research
Having a background in experimental neurophysiology, I mainly work on the analysis of data produced in this field. This work can be split into three broad categories – with associated keywords linking the task to specific statistical methodologies :
Spike sorting – dimension-reduction, clustering, classification, Gaussian mixture models, EM algorithm, MCMC.
Spike train analysis – point process / counting process, conditional intensity estimation, nonparametric estimation, smoothing spline, goodness of fit tests, Donsker theorem.
Calcium imaging – Poisson regression, variance stabilization, parametric / nonparametric models, image segmentation.
I also work on data linking the life expectancy and weight of Gray mouse lemurs to their food intake and other physiological parameters, the main tools used on these data are covered by the umbrella term functional data analysis.
In every project I try to implement what is now commonly called the reproducible research paradigm – that I prefer to call the reproducible data analysis paradigm. I am not a developer of the tools making the implementation of the paradigm possible but a daily user of them.
Collaborations
Within Paris-Descartes University I'm collaborating with:
In the rest of the World I'm collaborating with:
Publications
My five lastest publications:
Sébastien Joucla, Romain Franconville, Andreas Pippow, Peter Kloppenburg and Christophe Pouzat (2013)

Estimating background-subtracted fluorescence transients in calcium imaging experiments: a quantitative approach

Cell Calcium 54 (2): 71-85.
Matthieu Delescluse, Romain Franconville, Sébastien Joucla, Tiffany Lieury and Christophe Pouzat (2012)

Making neurophysiological data analysis reproducible. Why and how?

Journal of Physiology (Paris) 106 (3-4): 159-170 (hal, R vignette version of the toy example, odfWeave R vignette version of the toy example, Org/Babel version of the toy example using Maxima and Python, Org/Babel version of the toy example using Common Lisp and gnuplot, BibTeX).
Gaute T Einevoll, Felix Franke, Espen Hagen, Christophe Pouzat and Kenneth D Harris (2012)

Towards reliable spike-train recordings from thousands of neurons with multielectrodes

Current Opinion in Neurobiology 22 (1): 11-17 (url, BibTeX).
Sébastien Joucla, Andreas Pippow, Peter Kloppenburg and Christophe Pouzat (2010)

Quantitative estimation of calcium dynamics from ratiometric measurements: A direct, non-ratioing, method

Journal of Neurophysiology 103: 1130-1144 (url, BibTeX).
Z. Tiganj, M. Mboup, C. Pouzat and L. Belkoura (2010)

An Algebraic Method for Eye Blink Artifacts Detection in Single Channel EEG Recordings

IFMBE Proceedings. 17th International Conference on Advances in Biomagnetism (Biomag2010) 28: 175-178 (BibTeX).
More…
Acknowledgments
This web site was edited with emacs + Org. The css used comes from the one of Eric Schulte. The picture was taken by my wife the day our son was born – this explains my unusual "satisfied look".